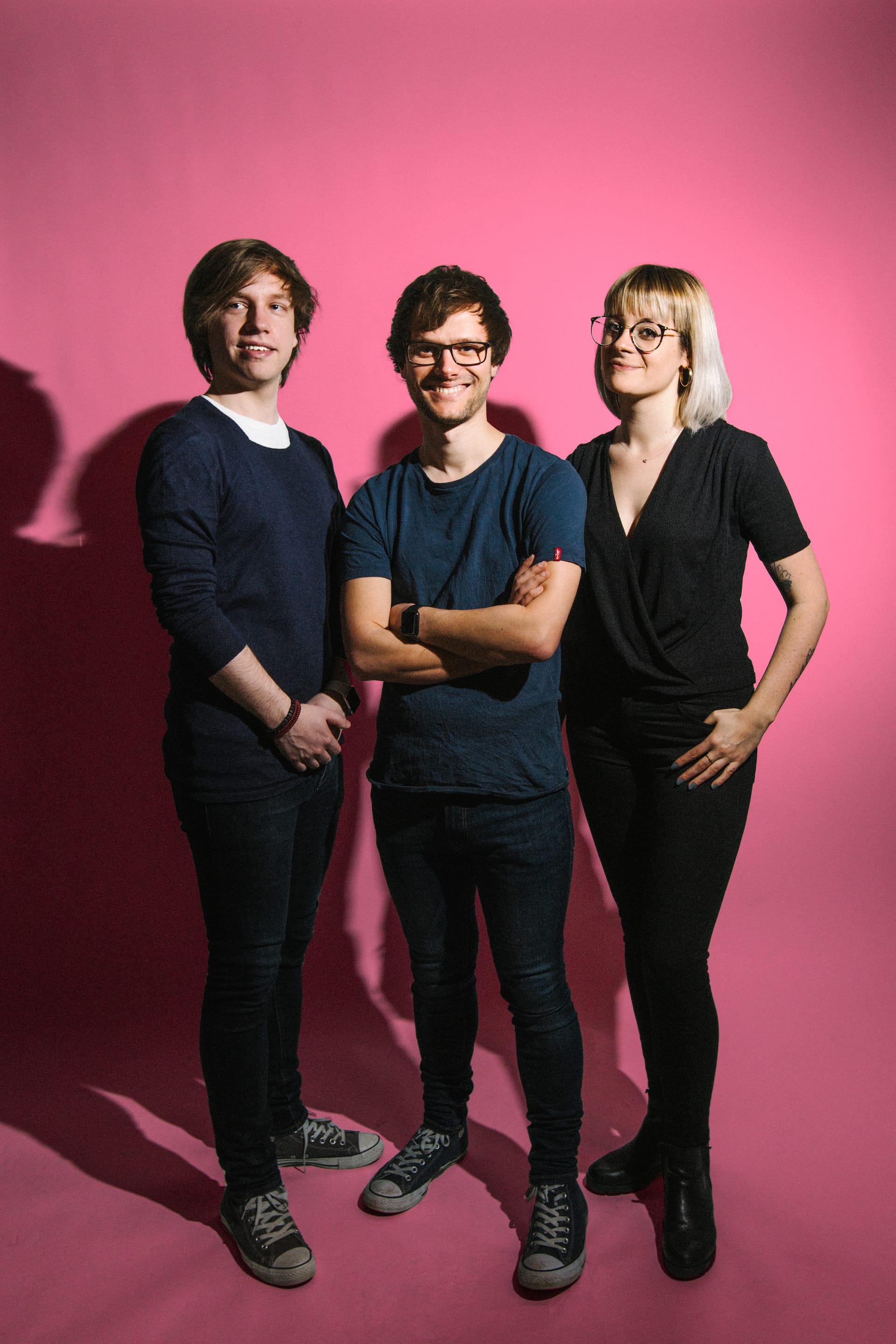 Love and excellence outta Belgium
We are a digital studio revamping the ol' fashioned industry. We shape, build and promote the most innovative digital products, side-by-side with our beloved clients.
Thomas was a slightly arrogant techie developing a game-changer mobility app for his fellow walloons travellers. Mathieu was a picky designer, loving the idea but feeling it was ugly. Margaux was a softy marketeer in love with her cats as much as with her Instagram account. Thomas is still arrogant, Mathieu remains picky and Margaux still loves cats. But they eventually teamed-up their talents to pursue their quest of reinventing the way digital agencies work.
What we do
We've got some sick skills, if you like sick skills.
Mobile apps.

Chatbots.

Machine learning.

Digital Campaigns.

Workshops.

We do it all.
Who is this
Who the hell are we? That, we don't know ourselves.
We are all digital natives. We are spread accross and work remotely so we won't ever be a heavy organization. We build the best suited teams up for every project, thanks to our extensive network of talented freelances. We are lean and we live at the pace of our clients & projects. We are nextmoov and this is how we work.
001.

Shape.

It all starts by breaking the habits, challenging the status-quo, shuffling our minds and making our clients feel (a bit) uncomfortable so we're sure we're exploring all possible tracks in shaping the best digital product. We promise we'll make you feel like children in an endless digital playground and you'll love it!
002.

Build.

Talking's fine, delivering's better. You've got it now, our unique strength lies in our capacity to build up the best fitted team around every project. We use the best tools and technos to bring your product to live.
003.

Promote.

Even the best products out there benefit from the boost of a well-rounded digital campaign. We design and pilot your campaigns and we make sure to coach you so you become the next biggest influencer ever.
Who we love
Meet some of our friends we made along the way.
Cambio

Europcar

SNCB / NMBS

STIB-MIVB

Modalizy

NextRide

TEC

De Lijn

Ecolo
Enough about us.
Tell us about you.
Let's meet together

 • 
Let's have some coffee

 • 
We love food too

 • 
A bit too much maybe

 • 
Let's get in touch anyway

 • 
Let's meet together

 • 
Let's have some coffee

 • 
We love food too

 • 
A bit too much maybe

 • 
Let's get in touch anyway

 • 
Copyright 2019. Don't steal our shit.
Kisses from the Kingdom of Belgium.